Personally, I find Richard Stallman even cooler than Linus Torvald. Linus is an Open Source guy. Stallman is a Free Software guy. And Free Software is a philosophy I love (I really must move away from Ubuntu to Debian). Unfortunately I have to use Windows in work. So far I've managed to avoid Apple. I never want to listen to music through earphones anyway. On the odd occasions I listen to music, I do it properly, at home, through a decent stereo. Why would anyone want music while walking? That's weird.
shakes head and frowns in confusion
Incidentally, the browser/OS stats at the W3 Schools website are unreliable. That's a breakdown of people who visit W3 Schools: in other words, people who are interested in web development or programming, but who haven't yet worked out that W3 Schools is a very poor resource, often with errors. Minor geeks. That's not a representative sample of the overall population.
Of course, this is all a moot point anyway these days.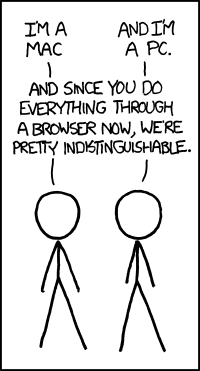 TRiG.